Offering fully integrated Electrical Engineering study using ETAP licensed software; which is one of the best software in this field. the coordination study include, load flow, short circuit, cable Ampacity, optimal power flow, and more.
Projects always include the utility service for the facility and continue down through the system, to branch panel boards, motor control centers and significant motor locations in addition to generators and any associated emergency power distribution equipment, including automatic transfer switches and generator ground fault protection.
Short-circuit calculations:
Analyzing the short-circuit currents and comparing the fault levels to the device interrupting ratings.
Time-current characteristic curves:
Determining the required settings/sizes of the protective devices to maximize selectivity A narrative analysis shall accompany each coordination curve sheet and describe the coordination and protection in explicit detail System coordination, recommended ratings.
Determining the steady-state loading profile of the system. This analysis is conducted under two modes of operation. The loading under the first mode of operation will be based on the recommended operation. The loading under the second mode of operation will be based on full load design criteria. Indicate areas of overloaded conductors and areas of excessive voltage drop in the conductors.
A motor starting study will be prepared in order to analyze the transient effect of the system's voltage profile during motor starting. This analysis can be carried out either by utilizing Variable frequency drivers or soft starters.
The final report includes
Transformer rating, voltage ratio, impedance, and winding connection.
Feeder cable phase, neutral and ground sizes, length of cable, conductor material, and conduit size and type.
Switchgear, switchboards, panelboards, MCC's, fuses, circuit breakers, ATS's and switches continuous current ratings.
Protective relays with appropriate device numbers and CT's and PT's with associated ratios.
Detailed legend indicating device type identification and other significant details.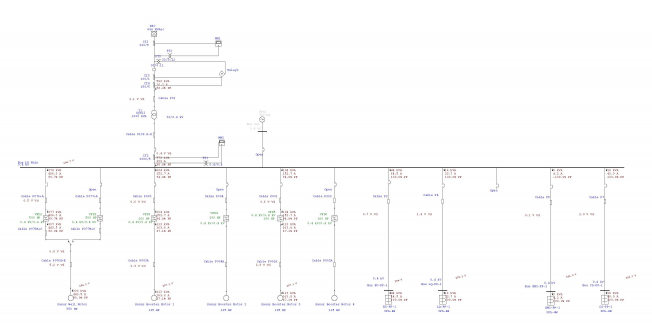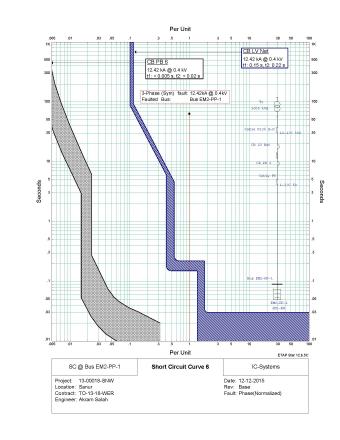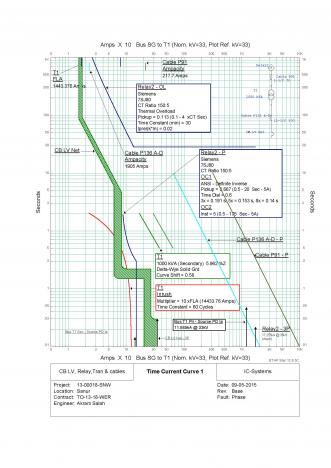 A typical report can be found under the downloads section
---
Downloads: